For me, the motivation to sculpt or paint is fundamental, in itself, in going forward in search of perfection, meaning and uniqueness.  There is an overwhelming need to make it intriguing and truthful.  We cannot improve on the beauty and mystery of nature but sculpture and painting can echo its sense of grandeur and completeness.
-Ivan Eyre 2014
Ivan Kenneth Eyre was born in Tullymet, Saskatchewan in 1935. Graduating from the University of Manitoba, Eyre would later return as Professor of Painting and Drawing until his retirement in 1993. Eyre trained under Ernest Lindner and Eli Bornstein and has himself instructed many leading artists of today.
For more than five decades Eyre produced an incredible body of work comprised of paintings, sculptures and drawings.  Most commonly known for his paintings Eyre has painted figurative work, still lifes, personal mythologies, figure silhouette/landscapes, portraits and panoramic landscapes. His ability to combine these various interests into works of authority and visual appeal has made Eyre one of Canada's most respected painters. In analyzing his own work, Eyre states, "…something less than a full understanding of a work is desirable in that it allows the painting to keep giving. A complete understanding would signify that we don't have to think about it anymore. Some mystery should remain, compelling viewers back to the paintings...possibly to reaffirm themselves."
Among his many honours, Eyre was elected a member of the Royal Canadian Academy, received the Queen's Gold and Silver Jubilee medals, the Order of Manitoba, an honorary Doctor of Law from the University of Manitoba, and several grants as well as being the subject of several films and over 5 books. In December 2015 he was appointed a member of the Order of Canada in recognition of his significant contribution to art in Canada.
Eyre has exhibited in more than 65 solo and 250 group exhibitions across Canada and around the world including the National Gallery of Canada; the 49th Parallel Gallery in New York City; the Frankfurter Kunstkabinett in Frankfurt, Germany; the Canadian Cultural Centre in Paris, the Canada House in London, England; his work currently hangs at the Canadian Embassy in Washington D.C.
Ivan Eyre is represented in numerous public, private and corporate collections throughout Canada; over 33 museums and galleries have shared some 420 paintings and over 3000 works on paper. In 1998 the Pavilion Museum was opened at Assiniboine Park in Winnipeg with the entire third floor dedicated as the Ivan Eyre Gallery. Ivan's gift to the museum was enormous as he donated 200 paintings, 5000 drawings and 16 sculptures which are shown in exhibitions in his gallery on a rotating basis. In 2010 the McMichael Canadian Art Collection in Kleinburg, Ontario opened a sculpture garden of 9 monumental Ivan Eyre bronze sculptures.
Ivan Eyre's paintings and sculptures are represented exclusively by Loch Gallery in Toronto, Winnipeg and Calgary.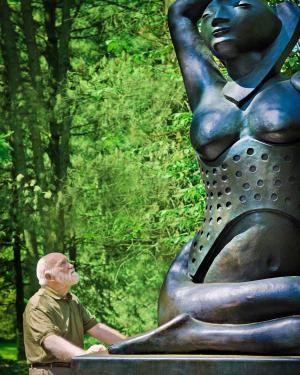 Are you considering selling your contemporary works?
We offer a viable and safe alternative to auction houses, eliminating the risk of devaluation when a work publicly fails to sell. We have no hidden fees and our transactions are dealt with the utmost discretion.
Contact us for a free verbal opinion